Fire crews and farmers tackle Orkney blaze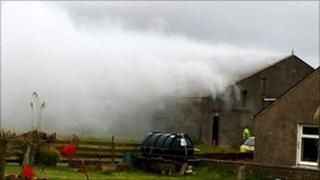 Several fire crews spent nine hours tackling a serious blaze in Orkney.
A total of 27 crew members from Kirkwall, Stromness and St Margaret's Hope were called to Vestrafiold farm.
Local farmers were also at the scene helping to get bales out of the shed, and stop the spread of the fire.
The fire - thought to have started in a shed used to store hay and straw - started on Wednesday, and was tackled until midnight.