Three men airlifted after North Sea boat incident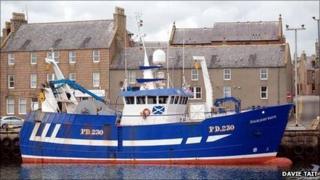 Three people have been airlifted to hospital after an incident aboard a fishing boat in the North Sea.
Two men were flown to Aberdeen by helicopter from the Peterhead-registered Starlight Rays, and later a third casualty was taken to Lerwick.
The boat was performing guard duties for the oil industry in the Devenick field, 155 miles off Aberdeen.
The men's condition is not yet known. It is understood they were overcome by fumes in the engine room.