Golfer Colin Montgomerie thanks cancer cash couple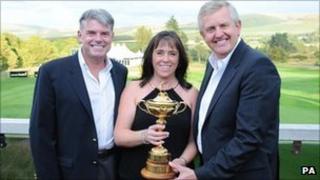 Colin Montgomerie has paid tribute to a couple who pledged £100,000 towards a new cancer unit in Aberdeen, in memory of the Scottish golfer's mother.
Dave and Fiona Cormack, who are both from the city but now based in the United States, are to gift the funds from the Cormack Family Foundation.
Mr Cormack is a former chief executive of Aberdeen Football Club and is now the president of a healthcare IT firm.
Mr Montgomerie hopes to raise £3m to build the Maggie's Centre.
The charity has been working with the Elizabeth Montgomerie Foundation, which was established by the golfer and his family in tribute to his mother, who died of lung cancer in 1991.
Mr Montgomerie held a private reception at Gleneagles on Saturday to thank about 100 supporters of the appeal.
He said: "Thanks to the Cormack Family Foundation and their generous donation, we are ever closer to realising our vision of creating a Maggie's Centre in Aberdeen, and enabling those with cancer to benefit from the unique caring environment offered through the centre."
Mr Cormack said: "To hear, first-hand, how much support and effort is going into the Maggie's Aberdeen appeal is humbling.
"Our contribution is just one of many, both large and small, that will bring the project to fruition."
First Minister Alex Salmond said he was "heartened" to hear about the donation.
"Such generosity underlines both the strong bonds that Scots around the world maintain with their home country and the inspiring work undertaken by Maggie's Centres, which prompt such charitable giving," he said.
The Cormack Family Foundation was established in memory of Mrs Cormack's father, Peter Styles, who died of cancer in 1985.