Online relatives appeal over damaged Moray headstones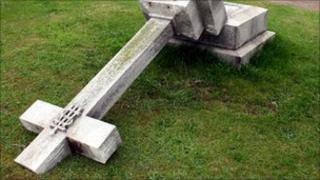 An appeal for relatives of people whose headstones were toppled at a Moray graveyard has been made.
About 50 headstones at Elgin Cemetery were vandalised in what the local authority said was a "mindless" act.
The oldest date on the damaged headstones is 1882, and many others are more than 100 years old.
Moray Council has now launched a nationwide online appeal for surviving relatives with details of the damaged headstones.
The headstones will be made safe, but will not be repaired or re-erected until contact is made with relatives.
A council spokesman said: "Tracing lair holders is likely to be problematic.
"We hope that by putting details on our website we can trace at least some relatives of those whose graves have been desecrated by this mindless act of vandalism."
Moray Council is asking lair holders or relatives to contact Margaret Smith on 01343 557058 or at margaret.smith@moray.gov.uk.
The incident, on Tuesday 23 August, is being investigated by Grampian Police.