Aberdeen bypass set for renewed legal challenge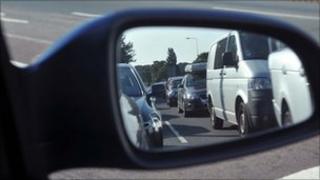 Critics of the Aberdeen bypass will press ahead with a fresh legal challenge despite thousands of people opposing them in an online petition.
Committee members of campaign group Road Sense have approved the move.
However, they may still be forced to drop the action if they cannot have their costs capped at a later hearing.
A petition calling for Road Sense to drop the opposition has attracted more than 8,000 signatures since it was set up on Friday.
Road Sense chairman William Walton told BBC Scotland: "This is not really an issue of numbers. We had 10,000 objectors to the road, which is a large number.
"I do not think we are going to be swayed by people signing on, but they are free to do that.
"We want a buoyant economy but that does not necessarily mean it has to be this route."
'Further delays'
However, Aberdeenshire Council leader Anne Robertson said: "I am frustrated and disappointed that this project will face further delays.
"It is an essential road infrastructure project that will benefit visitors, residents and future investment in Aberdeen and Aberdeenshire.
"Delays are already causing public outcry, evident in the thousands of signatures on the petition in favour of the road that will ease congestion for many road users and encourage economic prosperity for the region.
"The further hold up does not make sense economically, legally or logistically."
Bob Collier, chief executive of Aberdeen and Grampian Chamber of Commerce (AGCC), added: "The news that Road Sense are to appeal against Lord Tyre's decision will not be welcomed by the majority our members.
"It is alarming to many businesses and residents that their taxes may be used to fund any further appeal."
Fast link
An appeal at the Court of Session, which was recently rejected, delayed the construction of the £400m Aberdeen Western Peripheral Route (AWPR).
The bypass was originally given the go-ahead by Scottish ministers in December 2009 following a public inquiry.
Many business leaders in the area support the project.
Opponents criticise the cost and environmental impact of the plan, which is aimed at creating a fast link to the north, west and south of Aberdeen.