Gilcomston Church postpones 'gay breakaway' meeting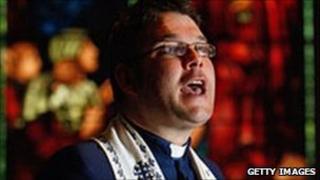 A meeting at an Aberdeen church to discuss whether to break away from the Church of Scotland over gay ministers has been postponed.
Gilcomston South Church in Union Street was the first to suggest it might rebel by breaking away from the Kirk.
The row began with the appointment of gay minister Scott Rennie at Aberdeen's Queen's Cross Church in 2009.
Gilcomston South's minister Reverend Dominic Smart told BBC Scotland the meeting had been postponed.
It is to allow further discussions with the special committee of Aberdeen Presbytery in September.
A congregational meeting will then take place at a later date.
The Kirk's General Assembly voted in May to allow the induction of some gay ministers.
The Church of Scotland said it was disappointing any congregation would feel the need to leave.
Gilcomston South has a congregation of about 400.