Minister expresses Aberdeen bypass delay frustration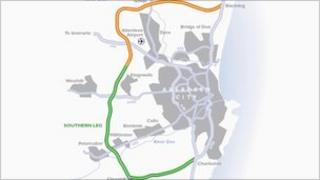 Transport Minister Keith Brown has expressed disappointment that the Aberdeen bypass faces more delays due to fresh legal action.
Campaign group Road Sense is set to launch a fresh appeal, blocking the start of the £400m project.
An online petition against their objection has attracted more than 12,000 signatures in a week.
Mr Brown said: "I share the sense of frustration now that Road Sense has now indicated their intention to appeal."
The Aberdeen Western Peripheral Route (AWPR) is aimed at creating a fast link to the north, west and south of the city.
Mr Brown explained: "To understand how important this project is for the region's future prosperity, one only has to look at the people who have been motivated to sign a petition in the last few days.
"The Scottish government has already been forced to spend over £1.1m of taxpayer's money in successfully defending the scheme against the objections of a small group.
"It is regrettable in the extreme that, in the face of an unambiguous judgment against them, this defence must continue at the expense of the public purse."
He added: "Despite the continued actions of this tiny minority, the Scottish government remains totally committed to the AWPR being completed as soon as possible.
"However, having already seen this much needed scheme significantly held up due to the initial legal challenges, we must now await the decision of the court with regard to this appeal before substantial progress can be made.
"As with the initial legal challenges we will robustly defend the appeal."
Respect rights
Road Sense chairman William Walton told BBC Scotland that Mr Brown should respect the rights of such groups to challenge court decisions.
Road Sense may still be forced to drop the action if it cannot have its costs capped at a later hearing.
An appeal at the Court of Session which was recently rejected delayed the construction of the AWPR.
The bypass was originally given the go-ahead by Scottish ministers in December 2009 following a public inquiry.
Many business leaders in the area support the project.
Opponents criticise the cost and environmental impact of the plan.