Life sentence for Aberdeen race attack man Keith Porter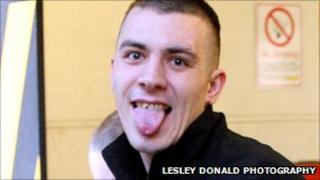 A man convicted of a racist attack in an Aberdeen prison has been given a life sentence.
Keith Porter, 23, was in jail after an attack on Jaroslaw Janeczek in Aberdeen, with a wooden mop handle.
Porter was then convicted of a racially-aggravated assault while in Aberdeen's Craiginches Prison.
He must serve a minimum of five years for the second attack and the judge warned he would be supervised for the rest of his life.
Judge Lord Woolman, in his sentencing statement, said the jail term for the prison attack would not start until Porter had served the nine years and four months sentence for the attack on Mr Janeczek.
The judge said Porter would only be released if the parole board thought he posed no further danger - and he would be the subject of an order for lifelong restriction after his release.
The judge told him: "Your record makes disturbing reading. Although only 23, you have 30 convictions, many involving violence.
"In 2005 you were convicted of four charges with a racial element. Various attempts have been made both in prison and in the community to address your problems, but without success.
"On 11 July 2009 you attempted to murder another Polish male, although the charge did not include a racial aggravation."
Life saved
Porter could not be sentenced until Lord Woolman had called for detailed background reports, assessing the risks he posed.
Cleaner Mr Janeczek, 39, suffered serious internal injuries in the original attack in Alexander Drive in 2009.
His life was saved by the efforts of surgeons. Porter admitted attempted murder.
He had carried out the second attack while awaiting sentence.
Porter was found guilty of hitting 28-year-old Daniel Kaizer over the head with a 10kg weightlifting bar in the gym of Craiginches, in a racially-aggravated attack.