Trident relatives visit site of sinking for first time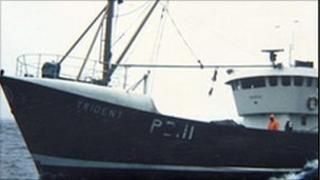 Relatives of fishermen who died when their trawler sank in 1974 have made an emotional visit to the site for the first time.
The Peterhead boat Trident sank off Caithness with the loss of seven lives.
Jeannie Ritchie, who lost her husband and father, said it was a sad but important journey.
The visit followed a report in February which concluded no-one was to blame. Relatives want the Trident raised as they claim it was unstable.
Relatives made the 16-mile journey on Wick lifeboat to the spot where the wreck lay 200ft below them.
Mrs Ritchie, 71, told BBC Scotland: "We have never had the opportunity to put flowers on a grave.
"It was very sad but I am glad we had the opportunity to do it."
She said they would continue to challenge why the men died in the sinking.
Mrs Ritchie said: "I could visualise all the men. It has given me power to push forward.
"We are going to continue our fight for these men to prove they died on an unstable boat."
Loose net
Radio contact was lost in the afternoon of 3 October, 1974.
An oil film was reported on 6 October in the area of the last known position of the Trident.
Robert Cordiner, Alexander Ritchie, George Nicol, James Tait, Thomas Thain, Alexander Mair and Alexander Summers were lost.
Six of the crew were in their 30s, and Mr Nicol was in his 50s.
The wreck was discovered by amateur divers several years ago.
Sir Stephen Young, sheriff principal of Grampian, Highlands and Islands, earlier said in his findings following an inquiry that the loss of the Trident was not caused, or contributed to, by any wrongful act.
He said a loose trawl net may have contributed to the vessel's instability but no-one was to blame for the loss of the Trident.