Home wanted for mare Gina G and her foal Ginelli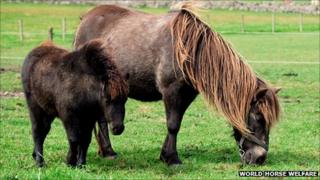 A new home is being sought for a mare and foal as a pair for the first time by a welfare charity in Aberdeenshire.
Gina G came to World Horse Welfare in 2010 and her filly foal Ginelli was born in April at the Belwade Farm rescue and rehoming centre in Aboyne.
Nine-year-old Gina G is described as shy but sweet, while Ginelli is curious and loves attention.
Centre manager Eileen Gillen said: "They are lovely ponies who will bring a lot of pleasure."
Both will be rehomed as companions as they cannot be ridden.
Applications for the ponies can be made at World Horse Welfare's rehoming pages.