'No health concerns' on Shell North Sea oil leak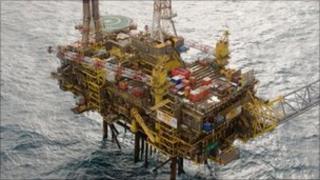 The impact of Shell's Gannet Alpha oil spill in the North Sea was minimal, Scottish Fisheries Minister Richard Lochhead has said.
Divers closed a relief valve after release of more than 200 tonnes of oil last month.
Scientists at the Marine Scotland Science laboratory in Aberdeen have since been assessing samples.
Mr Lochhead was told hydrocarbon concentrations were within safe limits and there were no health concerns.
Mr Lochhead said: "I'm pleased that we now have the all-clear.
"When an oil spill occurs it's vital that we carry out our responsibilities to assess the impact on our valuable marine environment and take action to minimise any effects.
"As Shell decide on their options for the safe removal of the oil that remains in the pipeline, the Scottish government will continue to take any necessary steps to protect the environment."
The leak was discovered about 300ft (91m) below the surface.
The Gannet Alpha oil platform is 113 miles (180km) off Aberdeen.