Migrating pink-footed geese arrive in Scotland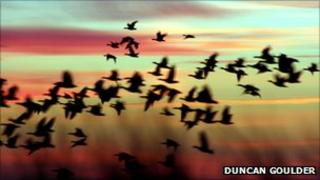 Vast numbers of geese have started to arrive in Scotland as part of their annual migration.
More than 1,000 pink-footed geese were recorded at RSPB Scotland's Loch of Strathbeg nature reserve in Aberdeenshire over the weekend.
Tens of thousands of geese are expected to touch down at the reserve.
Louise Smith, of the RSPB, said: "It's always an exciting time. The sight of tens of thousands of geese lifting off as one is a truly magical experience."
Pink-footed geese nest in Iceland and migrate to the UK in autumn to spend the winter months in a milder climate.
They leave Scotland in March or April to return to their Icelandic breeding ground.