Fertilizing Scottish growth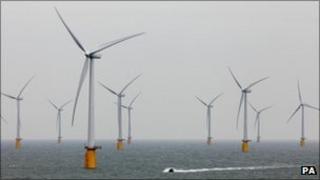 Call it an update, a refresh or digging in some economic fertilizer. Either way, the Scottish government has been at work on its economic growth strategy, and come up with something ... sort of, familiar.
Finance Secretary John Swinney is making no apologies for "continuity", even in the face of a massively changed landscape since November 2007, when the SNP government's economic strategy was first published.
That continuity either means that it was a robust strategy that has weathered the enormous economic changes since then, or it's so bland that it doesn't much matter what the economy's doing. It is not, after all, particularly cutting edge to say that the Scottish government is in favour of more jobs, higher productivity and higher level skills. Who isn't?
The strategy builds on what went before, rather than replacing much. The big add-on is a sixth strand to add to those of skills, government support for business, infrastructure and spreading growth fairly around the country and between income groups.
Low carbon behaviour
"The transition to a low carbon economy" is number six - remarkable mainly for the fact that it wasn't there before.
Note that it's not all about renewable energy, but about technologies, systems and behaviour change that reduces climate-changing emissions.
By the reckoning of Lena Wilson, chief executive of Scottish Enterprise, who joined Mr Swinney for today's strategy launch, there are around 600 companies currently using skills that could be applied to the low carbon economy, but which are not yet being applied: traditional engineering, for instance, or aerospace.
Among other elements worth noting, a digital fund to support the rollout of faster broadband throughout Scotland.
More on that next week, when this strategy ought to inform the decisions being made for the Scottish government's three-year draft budget announcement. And more in that budget announcement about the big capital projects that are needed to keep transport moving.
Later in autumn, we may learn more about the four enterprise zones promised by the administration when it renewed and strengthened its mandate in May.
It's not yet decided what shape they'll take. There's still discussion on whether they should be geographically defined or, boundaries should be drawn around a sector. The low carbon commitment already looks like it will get at least one of the zones.
I asked John Swinney if the zones would focus on areas with the most growth potential, or the areas of most deprivation and in need of help, which is where enterprise zones have been tried before, with unconvincing results.
His choice is that those with the most growth potential will take priority on this policy, as has happened with Whitehall's enterprise zones. That may lead to complaints from those representing deprived areas.
Funding growth
Bank lending is getting more focus. Indeed, "focus" is a word Mr Swinney wants to apply lots to a strategy that's at risk of lacking precisely that.
There is a limited amount he or his UK counterparts can do about lending, but it's interesting that Lena Wilson and Scottish Enterprise are putting pressure on banks to support the 2,000 or so companies getting the economic development agency's priority treatment.
It's suggested by Mr Swinney that banks' relationship managers could be helped with a bit of training in the prospects for the high-growth companies with which they're dealing.
There's focus also on internationalising companies - with evidence that Scottish companies under-perform in engaging with export markets.
Meanwhile, Wilson is talking up the prospects for extra support for companies where their market is barely there yet, such as tidal and wave renewable energy.
Celtic tiger target
So how will we know if this strategy is working? There are targets, of course. One of them continues from the 2007 strategy - that of matching the average growth rate of small European Union nations by 2017.
Given what's happening to Ireland, Portugal and Spain, that's a rather different proposition than the way it looked four years ago.
And one target has disappeared, it's departure carrying political significance.
Four years ago, the aim of the incoming SNP government was for the Scottish economic growth rate to rise to the level of the UK by 2011.
What's since become clear is that the Scotland had already done so. The target was reached, and it's been dropped.
So, job done? Good news? Well, not entirely, if you're in the SNP.
In fighting the 2007 election, the Nationalist complaint was that Scotland was being held back, and disadvantaged, by its place in the United Kingdom while other parts grew healthily. That's much harder to argue now.
The case can still be made that Scotland could be doing better if it had smaller, nimbler economic management, apart from the UK. But with the problems of Ireland or Iceland, that argument's become a bit harder to sustain as well.