December date set for Aberdeen bypass court action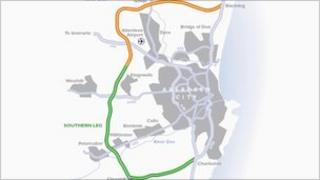 Campaigners against plans for the controversial Aberdeen bypass have been given a date in December to continue their court action.
Protest group Road Sense has lodged a fresh legal bid to block the construction of the £400m road.
Judge Lord Bonomy ruled that appeal judges should hear arguments from both sides over four days from 13 December.
The bypass was originally given the go-ahead by Scottish ministers in December 2009.
A judge previously ruled that there were no grounds to overturn the decision to allow the 28-mile Aberdeen Western Peripheral Route (AWPR) to go ahead.
Considering the latest appeal at the Court of Session in Edinburgh, Lord Bonomy was told that the case was urgent.
Lorna Drummond QC, for Scottish ministers, said: "This is a project of substantial importance to the economy and infrastructure of the north east of Scotland."
She said ministers were "very keen" to make progress.
The protest group and their chairman William Walton need to get a judge to cap their legal expenses, or face having to give up because of costs.
Andrew Smith QC, for the protesters, said: "Although I cannot say that the appeal will not proceed, it is highly unlikely it will proceed if the order is not granted."
Lord Bonomy ruled arguments from both sides would be over four days.
Transport Minister Keith Brown said: "Following Lord Tyre's decision to reject the legal challenges against the AWPR, we had hoped to be able to get on and build this much needed road for the north east of Scotland.
"However, I shared the deep frustration of the vast majority of people and businesses that we faced a further delay due to this appeal.
"I made clear that we wanted to get the earliest possible opportunity to challenge this appeal and that is why we sought urgent disposal. I am pleased that the court has recognised the importance of this project to the economy and infrastructure of the north east of Scotland.
"I hope that the protesters, who are holding up this much needed road, will decide to withdraw their appeal. However, if necessary, we are prepared and ready and look forward to challenging the appeal later this year."
An online petition against the Road Sense objection has attracted more than 14,000 signatures.
Many business leaders in the area support the AWPR project.
Opponents have criticised the cost and environmental impact of the plan.