North Sea helicopter ditching 'crew error'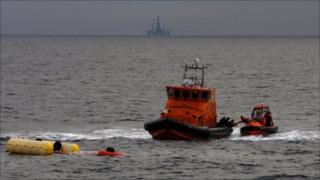 Crew error and the malfunction of an alert system have been blamed for a helicopter ditching in the North Sea.
The 16 passengers and two crew survived the incident on 18 February 2009, which involved a Bond Super Puma.
It came down near a BP oil platform in the ETAP field, 125 miles (201km) east of Aberdeen, in foggy conditions.
The Air Accidents Investigation Branch has said the two pilots were unaware the aircraft was landing on the sea rather than the heli-deck.
The report said the pilots failed to notice the helicopter was descending about 300m short of the platform.
It found they were focused on the platform, and not the instruments in the helicopter that could have indicated where they were, and two audio height warnings did not activate.
'Safety recommendations'
The report also found the "visual illusions" were worsened by low visibility caused by fog and clouds, and reinforced by the reflection of the platform lights on the surface of the sea.
A major rescue operation was then launched when the alarm was raised.
The AAIB has made 27 safety recommendations - including that the Civil Aviation Authority (CAA) commissions a study of visual illusions that could be generated during offshore approaches in poor visibility and at night.
Robert Paterson, industry body Oil and Gas UK's health and safety director, said: "Immediate action was taken in setting up the Helicopter Task Group as a means to identify and address cross-industry issues relating to helicopter safety.
"Many of the recommendations in today's report have been anticipated and the group helped to accelerate progress on many fronts."
'Highest priority'
And Bill Munro, managing director of Bond Offshore Helicopters, said: "All recommendations immediately relevant to Bond, based on the AAIB's two special bulletins in 2009, have already been fully implemented.
"Improvements which have already been implemented by Bond and the wider industry significantly enhanced the safety of operations which continues to be the highest priority."
Later, in April that year, 16 men died when another Bond Super Puma crashed into the sea off Peterhead.
The AAIB report into that incident is still awaited.