Fish worth £435m landed in Scotland in 2010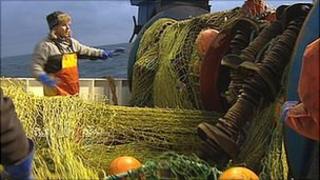 Fish worth £435m was landed in Scotland last year, it has been revealed.
The new Scottish sea fish statistics showed that 367,000 tonnes of fish were brought to shore in 2010.
A total of 2,150 fishing boats were based in Scotland last year - the smallest fleet ever recorded - and the number of fishermen fell 4% to 5,218.
However, Fisheries Secretary Richard Lochhead said the Scottish fleet had enjoyed another successful year despite "extremely challenging times".
The catch value dropped from £443m in 2009, although the weight was up from 351,000 tonnes.
Boats fell from 2,174 in 2009, and fishermen dropped from 5,409.
Mr Lochhead said: "Scotland's fisheries sector plays a vital role in our economy and it's heartening that today's statistics show the value of landings remains high.
"While the value of landings has dropped slightly compared to 2009, we had seen a particularly large increase in value between 2008 and 2009.
"This year's landings - worth £435m - is still 5% higher, in real terms, than the value of 2008 landings."
He added: "Looking ahead, there are a number of crucial issues which must be addressed to ensure Scotland's fishing fleet can continue to operate successfully.
"These include resolving the mackerel dispute with Iceland and Faroes and achieving the best possible outcome for Scotland in the reform of the flawed and damaging Common Fisheries Policy."
Bertie Armstrong, chief executive of the Scottish Fishermen's Federation, said: "Although these statistics show a slight downturn in the value of fish landed, as well as the size of the fleet and number of people employed, they do highlight the crucial role that Scotland's fishing fleet plays in the country's economy."