Father delivers baby Emily in car in Aberdeen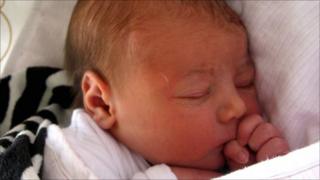 A father-to-be had to deliver his baby daughter in their car after not reaching the maternity hospital in time.
Pawel Pyrchala was driving his wife Anita to Aberdeen Maternity Hospital from their home in Ellon in the middle of the night.
Mr Pyrchala - originally from Poland - took a wrong turn, and they ran out of time.
So he delivered the baby girl - named Emily - in the front seat, before then driving to hospital where the umbilical cord was cut.
When his wife's contractions had started getting stronger at home they began the drive into Aberdeen.
IT specialist Mr Pyrchala, 33, told BBC Scotland: "We were very close to the hospital, but it was dark. I had to stop.
"I was listening to my wife, there was not any time to plan, I just did what I had to do, and grabbed the baby.
"I gave her back to my wife and called the maternity ward."
They then drove the short distance to the hospital and the baby was warmed up, but she was otherwise none the worse for her car delivery.
Mr Pyrchala said: "The nervous moments were over and it was now the happy stage.
"It seems very surreal, like something that didn't happen - but it did.
"I think it's a good story to the kids later on."
The couple also have a two-year-old daughter called Sophie.