Images show planned Donald Trump golf clubhouse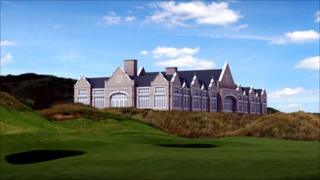 The first images of the planned clubhouse for Donald Trump's golf course in Aberdeenshire have been released.
Mr Trump's golf development on the Menie estate on the coast is nearing completion.
Work on the controversial £750m project, to also feature a hotel and homes, began a year ago.
The images show a single-story building made of granite, slate and glass, described as "second to none".
The clubhouse - designed by Acanthus Architects - forms part of the next phase of the development.
Sarah Malone, executive vice president of Trump International Scotland, said: "We've spent many months refining and perfecting the permanent clubhouse design and will submit our planning application to Aberdeenshire Council in the coming weeks.
"With luxurious Scottish interiors and a full range of services and facilities for golfers and visitors, this clubhouse will be second to none."