Pet cat found dumped in wheelie bin in Aberdeen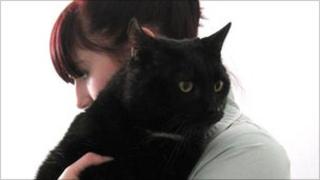 A cat has been found dumped in a wheelie bin in Aberdeen, the BBC Scotland news website has learned.
The black pet - which appeared to have been previously well cared for - was found with food, a bed and toys.
The cat, thought to be eight or nine, was taken to Ardene House veterinary practice, and will then go to Cats Protection to find a new home.
Staff at Ardene House said the cat was friendly but seemed "very sad and confused" after the incident.
The pet was discovered in the wheelie bin in Great Northern Road on Friday evening.
Grampian Police appealed for anyone who may have seen anything suspicious - especially anyone who saw a man in a hooded top running along Great Northern Road in the direction of Woodside - to contact them.
In October last year, a woman who caused outrage after being filmed dumping a cat in a wheelie bin was fined £250.
The RSPCA charged Mary Bale after CCTV cameras showed her throwing four-year-old Lola into a bin outside her owners' home in Coventry.
Bale, 45, pleaded guilty to causing unnecessary suffering to a cat.
The judge said she had taken Bale's vilification into account.