Guard ship at unexploded WWII mine in North Sea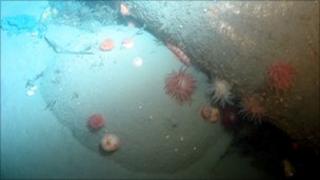 A guard ship has been deployed in the North Sea due to an unexploded World War II mine at a pipeline.
Shell said it followed a new study on the mine, which was discovered in 1993, at the Flags pipeline.
The oil company said there was no platform or rig activity in the area, 100km (62 miles) off Aberdeen, but fishing boats can pass near the site.
The guard ship is there to make sure any passing vessels keep a safe distance from the site.
The mine is lying at a depth of about 100m at the Far North Liquids and Associated Gas System pipeline.
Shell said it has regularly monitored the mine, and in the latest review the identification of the type of unexploded ordnance involved became clearer.
The company said the technology now exists to carry out this work with a much lower degree of risk than previously existed.
The decision was then taken to deploy the guard vessel to prepare for the eventual removal of the mine.