Ship in Aberdeen Harbour fuel leak to be inspected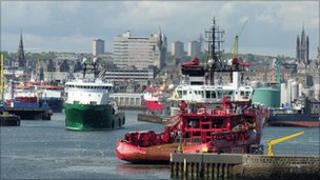 An offshore supply vessel at the centre of a leak of about 1,000 litres of fuel oil into Aberdeen Harbour is to go into dry dock for possible repairs.
Oil spilled from the offshore supply vessel Skandi Foula during refuelling at the Torry dock on Friday. The affected area was cordoned off.
Shell UK said 500 litres of oil had been recovered.
The remaining fuel had created a "light sheen" on the surface of the water, a spokeswoman said.
She said: "There are no reports of any oil outside the Torry dock in the River Dee.
"The Skandi Foula is planned to go into dry dock in Aberdeen Harbour for inspection and repairs.
"The relevant authorities have been informed including liaison with the harbour master."