Alzheimer's brain research in Aberdeen wins £16,000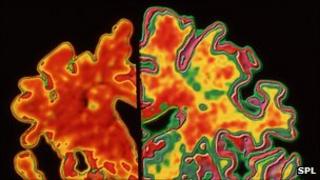 University of Aberdeen scientists have won £16,000 to fund an Alzheimer's pilot study into brain ageing.
Alzheimer's Research UK is funding the research aimed at understanding changes that take place in the human brain at different times of life.
Images of the brains of 30 adults aged from 40 to 60 will be created.
Dr Gordon Waiter, who will lead the study, said: "We hope to be able to detect signs of the disease before the symptoms even show."
He explained: "Recognising the symptoms of dementia early is currently a major challenge.
"It is essential to look at normal ageing brains first. Once we fully understand what is normal, then we will be able to tell what is abnormal at an earlier stage."
Dr Simon Ridley, head of research at Alzheimer's Research UK, said: "These short, innovative projects are essential for scientists to perform pioneering work into dementia and Alzheimer's disease.
"Over 2,500 people in Aberdeen city alone are living with dementia, with the UK figure at over 820,000."