Three-legged Siberian husky puppy seeking home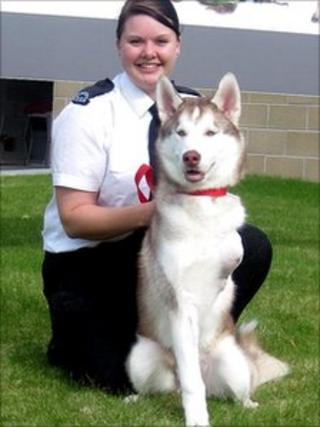 A home is being sought for an abused three-legged Siberian husky puppy by the Scottish SPCA.
Six-month-old Diesel came into the care of the animal charity's rescue centre in Drumoak, Aberdeenshire, after suffering a "terrible" injury.
Vets had to amputate as a result of what was described as a cruelty case.
Assistant centre manager Debbie Innes said: "Despite the trauma he has been through Diesel has never lost his happy-go-lucky attitude towards life."
She added: "Diesel is a true canine hero who deserves to know happiness in his life. All he wants is a home where he can love and be loved.
"This brave boy has coped amazingly well and even within a couple of days of being operated on he showed a resilience and attitude that told us losing a leg was not going to slow him down or affect him in any way.
"Being a young husky Diesel is naturally energetic and he can be quite stubborn and independent, so we're looking for an owner who will not only give him the lifestyle and care he needs, but also invest time and effort in his further training and socialisation.
"Diesel has so much love to give, we just hope the right person is out there for him."
Anyone interested in offering Diesel a home can visit the rescue centre or call the Scottish SPCA animal helpline on 03000 999 999.