Aberdeen City Council consulting over 150 job cuts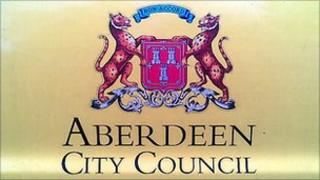 Aberdeen City Council has begun consultations with staff and unions over 150 job cuts in 2012/13.
The local authority said it needed to reduce the size of the workforce to help balance the budget next year.
The issuing of letters marked the start of a 90-day consultation period on "ways of minimising the impact".
Aberdeen City Council chief executive Valerie Watts said: "We must face up together to the realities of the very difficult economic climate."
The local authority said compulsory redundancies could not be ruled out.
The chief executive added: "We will be working closely with our employees and the trade unions to minimise the impact of job reductions.
"The whole of the public sector is having to confront similar challenges."
The SNP's Callum McCaig, who leads Aberdeen City Council as part of a coalition with the Lib Dems, said: "City council officers are clearly prepared for every eventuality and the contingency of not ruling out compulsory redundancies was one which they felt needed to be made.
"As leader of Aberdeen City Council, however, I am positive that reductions in the workforce will be made without any recourse to compulsory redundancies."
The council said the plan was based on a forecast £127m reduction in income along with "extra cost pressures between now and 2015/16".
Scottish Labour leader Iain Gray accused the Scottish government of betraying the people of Aberdeen by breaking its manifesto pledge of "no compulsory redundancies".
He said: "The SNP promised categorically before the election there would be no compulsory redundancies in local government.
"Yet now, only a few months down the line, the SNP in Aberdeen are poised to do exactly what they promised voters they would not do."
A spokesman for First Minister Alex Salmond said: "Officials set out options and councillors decide - and the leader of Aberdeen City Council has reiterated that there will be no compulsory redundancies in Aberdeen under the SNP-led council."