Maggie's cancer care centre opens at Gartnavel Hospital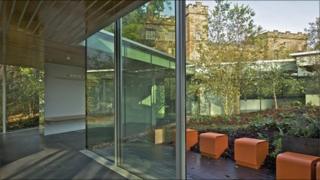 Scotland's latest Maggie's centre is being opened in Glasgow later.
The cancer care facility in the grounds of Gartnavel Hospital has been designed by OMA, led by Dutch architect Rem Koolhaas and Ellen van Loon.
It is partly funded by charity Walk the Walk, with some of the cash raised by women doing the MoonWalk in Edinburgh.
The centre's landscaping was designed by the daughter of Maggie's founder, architect Maggie Keswick Jencks, who said good design helped lift spirits.
The new building uses light and space to create a pleasant environment which will be available to cancer patients at the hospital.
Maggie Keswick Jencks developed breast cancer in 1993 which spread to her bones, liver and brain.
She was confident a well designed centre could help patients in their recovery and using her experience began work on the first Maggie's centre.
It opened in Edinburgh 15 years ago, a year after she died.
Since then a total of 15 centres have been commissioned across the UK.
The latest at Gartnavel is a single-level building in the form of a ring of inter-locking rooms surrounding an internal landscaped courtyard.
The centre is located close to Scotland's leading oncology facility, the Beatson and will work in tandem with the original Maggie's Glasgow at the Western Infirmary.
Lily Jencks, daughter of Maggie and Charles Jencks, designed the landscaped courtyard.
She said: "Designing the centre has provided a strong connection to my mother and my hope is to have created a unique and joyful design in her memory."
The Maggie's charity is celebrating its 15th birthday this year.
Laura Lee, Maggie's chief executive, said: "Today is a celebration of a fantastic new resource for the west of Scotland's cancer population, as well as a celebration of this pivotal year in Maggie's history.
"Maggie's Gartnavel has been made possible through a unique partnership with Walk the Walk, whose tenacious Edinburgh MoonWalkers, take to the streets of Edinburgh each year in wonderfully decorated bras to raise money to support cancer charities.
"Thank you to Walk the Walk and to everyone who has graciously support us over the years - you are helping to make a huge difference."