Brother of murdered Claire Morris in victim support plea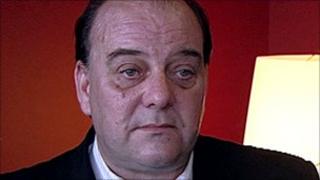 The brother of a woman murdered by her husband has called for better treatment for the victims of crime.
Peter Morris told MSPs more support was needed for all those affected, including family, friends and other witnesses.
Malcolm Webster, of Surrey, was jailed for a minimum of 30 years in July for murdering Claire Morris in Aberdeenshire in 1994.
The SNP government previously pledged new legislation on victim rights.
Mr Morris told the Scottish Parliament's petitions committee that changes must be made throughout the whole process of a case, especially serious crimes such as murder.
He suggested police should drop the term "family liaison officer", in favour of "case companion", and added that allowing accused people to live in the same space as victims must end.
Mr Morris, from Gillingham, Kent, also said there should be better care for people after a court case had finished, including more support to help deal with outstanding legal issues.
Speaking from experience with his sister's case, Mr Morris - whose petition has gained more than 6,000 signatures - told the committee: "I had instances where I didn't see or speak to my family liaison officers for months.
"I also had situations where I asked a question and didn't get an answer for a number of days."
He added: "When you're waiting for the truth about your loved one, one of the things which is very frustrating and causes mistrust is when an eternity of time is spent getting an answer to a question."
Former nurse Webster, of Guildford, was convicted of murdering 32-year-old Ms Morris - originally of Upchurch in Kent - in a staged car crash in 1994.
The crash was initially treated as an accident, after Webster said he had swerved to avoid a motorcyclist.
It was reinvestigated following concerns being raised in the wake of another crash involving his second wife in New Zealand in 1999.
New tests showed traces of drugs in his first wife's system.
Webster was also convicted of trying to murder his second wife, Felicity Drumm, in Auckland.
He was also found guilty of intending to bigamously marry another woman, Simone Banarjee, from Oban, Argyll, to gain access to her estate, while pretending he had leukaemia.
The crimes were carried out as part of a plot to claim almost £1m in life assurance money.
The SNP announced before the election that it would bring forward a Victims Rights Bill, although it was not included in its programme for this year.
The SNP said the legislation would ensure damages and compensation were fully available to victims while also enshrining in law the rights of victims to information throughout the legal system.
The petitions committee agreed to raise the issue with Scottish ministers.
Webster is set to appeal against his conviction.