Flu action event arrives in Aberdeen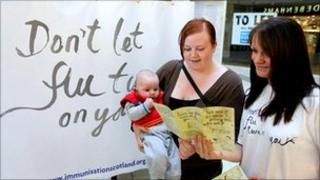 A flu awareness tour has arrived in Aberdeen to urge people to get vaccinated against the virus.
The "Don't let Flu Turn on You" event, during Flu Awareness Week, was at the Trinity shopping centre.
Dr Emmanuel Okpo, consultant in public health medicine at NHS Grampian, said: "Flu strikes suddenly and sometimes this can be very severe."
The government said 63 people were reported to have died from the flu virus in Scotland last year.
The key target groups for immunisation include people aged 65 and over; under 65s with existing long-term medical conditions such as asthma, diabetes, cystic fibrosis, multiple sclerosis and other heart, lung and liver diseases; and pregnant women.