Official opening for new £10m Aberdeen Airport runway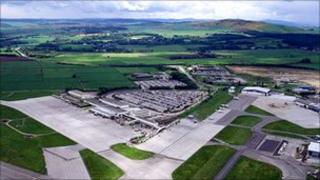 A £10m extension of Aberdeen Airport's main runway has been officially opened, well ahead of schedule.
Work started in March and was expected to finish next summer, but was completed almost eight months early.
The length of the runway extension is 124m (406ft). Airport managing director Derek Provan said it followed years of "planning and hard work".
It is hoped the runway could open up new routes. Groups including Aberdeen Against Climate Change had objected.
Mr Provan said: "Today represents a milestone, not just for the airport but for the wider north east of Scotland.
"It is a major investment in securing the services our passengers want going forward."
Bob Collier, chief executive of Aberdeen and Grampian Chamber of Commerce, said: "Congratulations to everyone involved in this project for bringing it in, so far ahead of schedule.
"It's fantastic news for the north east because it means that the airport, and everyone who uses it, will be able to reap the benefits of the new extension far earlier than was expected."