Rescue heroes honoured at awards by Alex Salmond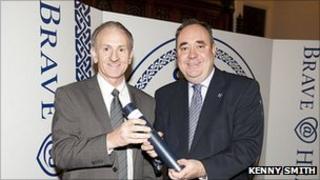 An Aberdeenshire man who waded into a freezing river to help a woman whose car had crashed was among several north east people honoured for bravery.
Eric Reid, 56, rescued the woman in January after her car had skidded on black ice.
Grampian Police officers were also recognised at the Brave At Heart event hosted by First Minister Alex Salmond at Edinburgh Castle
Mr Salmond commented: "They are all heroes."
Constables Nicholas Boyd and Enoch Stickings, both from Moray, evacuated a caravan park in Keith after reports of an explosion, and gave first aid to people with burns.
And Special Police Constables John Carle and Naria Elrick were honoured for overpowering and arresting a thief armed with an axe handle during a busy Remembrance Day parade in New Deer.