'Special' home sought for puppy with rare condition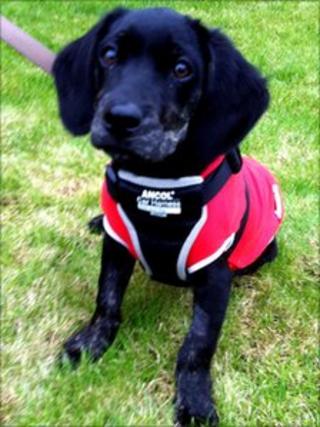 A "special" owner is being sought for a puppy with a rare condition which means he cannot digest food normally.
The Scottish SPCA said four-month-old dachshund cross cocker spaniel Bailley was born with megaesophagus.
He has to stand on a stool to eat so he is in an upright position, and then be held upright afterwards.
Staff at the charity's Animal Rescue and Rehoming Centre at Drumoak, Aberdeenshire, said Bailley is "full of love".
Centre assistant manager Debbie Innes said: "Bailley arrived in our care as his owner could no longer look after him.
"Despite having a tough start in life he brings a smile to everyone's face.
"His condition is manageable, although any new owner should be aware of the time and commitment required to ensure he digests his food and drink properly."
She added: "Feeding time is rather unique as he has to stand on a stool to reach his special dish so he is in an upright position.
"After he's finished, Bailley also has to be held upright for 10 to 15 minutes to ensure his food and drink passes into his intestine.
"As long as this is being done, he can lead a normal and happy life and will bring so much joy to his new owner.
"We really hope we can find that special person who will give Bailley the loving forever home he longs for."