Aberdeen bus drivers consider next move over pay row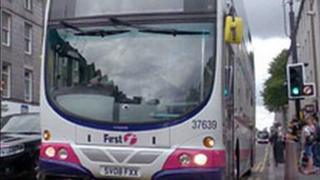 Bus drivers at First Aberdeen are meeting with union officials later to decide their next move in a dispute over pay and conditions.
The bus operator wants to remove some of the drivers' overtime entitlements and says the change is a small one.
But union leaders say their members will not stand for any erosion of their pay and conditions.
Strike action has not been ruled out. Management said they wanted to avoid disruption in the lead up to Christmas.
Regional Organiser with the Unite union Tommy Campbell said the overtime entitlement was important to many of the company's drivers.
"A lot of the staff, because of the poor wages that are paid for bus drivers nowadays, rely on this extra time that they work," he added.
"That's now going to be infringed upon and impinged upon.
"As far as we are concerned we are not having that."
However, First Aberdeen's operations director Duncan Cameron said the change to drivers' overtime was small.
He said: "Working on the basis that the average driver will lose no more than one overtime shift per year, it is going to cost the average driver roughly £70 a year."
Unite has warned that industrial action is a possibility, if negotiations with management come to nothing.
Mr Cameron said the company was working to ensure customers did not suffer.
He added: "We are absolutely determined that our customers will not face any disruption in the lead up to Christmas."