Man turned loaded shotgun on wife in Orkney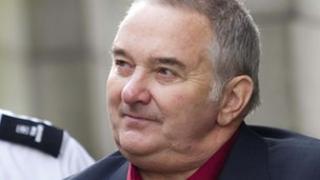 A 66-year-old man has admitted turning a loaded shotgun on his wife and the man he suspected her of having an affair with in Orkney.
Colin Baulch brandished the weapon at estranged wife Wendy and John Gibson after finding them together.
The High Court in Aberdeen heard how the couple managed to wrestle the gun from Baulch then tied him up until police arrived.
Sentence on Baulch was deferred until November for reports.
The court was told that Baulch had taken Mr Gibson's car keys before calling his wife Julia to tell her the pair were having an affair.
After Mr Gibson received a call from his wife about the allegations he and Mrs Baulch heard a bang coming from outside the property in Rousay and saw Baulch holding a shotgun with the barrel still smoking.
Advocate depute Ashley Edwards said Baulch was "ranting and raving" and shaking the shotgun in a "threatening manner" - less than 4ft away from his "love rival".
She told the court that Baulch then turned the gun on his wife when she tried to intervene.
Ms Edwards said: "She believed he was going to fire the gun at her. The accused continued to approach Mr Gibson who had started to back away. He stated to Mr Gibson that he was going to 'do him'.
"Mr Gibson was shaking with adrenaline and believed the accused was going to kill him."
The court heard how Mr Gibson "lunged" at Baulch, wrestling the gun from him before throwing it into a bush.
Baulch was restrained and his hands tied up with rope until police arrived and handcuffed him.
Live cartridge
After tying up Baulch, Mr Gibson opened up the shotgun and found a live cartridge in one of the chambers of the barrel.
A half-full box of spare cartridges was also found on the passenger seat of the accused's car.
When questioned by police, Baulch said he had been at the property "shooting rabbits".
The court heard Mr Gibson had been at Mrs Baulch's property to "fix a light" but her estranged husband had been suspicious of the pair.
The advocate depute said: "The couple's relationship had deteriorated three years prior to the incident and in 2009 the accused started to develop a suspicion that his wife had formed a relationship with the witness.
"Mrs Baulch said the accused, in course of arguments, had threatened both her and Mr Gibson, but neither took such threats seriously."
Ms Edwards said Mrs Baulch had since filed for divorce and Mr Gibson had been drinking heavily and taken antidepressants in the aftermath of the incident.
'Frightened and angry'
She said: "She was frightened by the incident and angry at the affect it has had on Mr Gibson.
"He is emotional and angry when thinking about what happened."
Baulch admitted having a firearm and causing John Gibson to believe that the weapon would be used in violence against him.
He admitted the same charge in relation to his wife.
He committed both offences in Rousay, Orkney, on 19 October last year.
Baulch now lives in Essex and works as a first responder for the ambulance service.
He and his wife are originally from England but had lived on Rousay, Orkney, since 2005.
Lord Matthews deferred sentence for reports until next month and remanded Baulch in custody.