Claire Morris memory walk costs brother his leg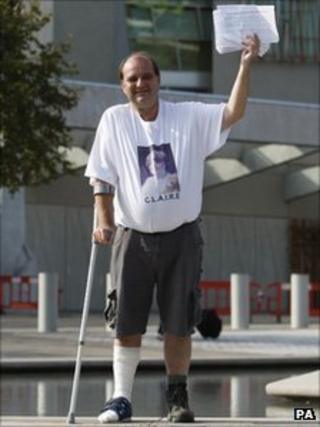 The brother of a woman murdered by her husband, Malcolm Webster, has had part of his leg amputated after damaging it during a walk in her memory.
Peter Morris had to halt his trek from his sister Claire's grave in Tarves, Aberdeenshire, to Holyrood last month.
He still gave a 6,000-strong petition to the Scottish Parliament calling for a foundation to help victims of crime.
However, gangrene set in and Mr Morris, of Kent, had to have part of his right leg removed by surgeons on Wednesday.
Claire Morris was murdered by Webster, from Guildford in Surrey, in 1994.
The former nurse was jailed for a minimum of 30 years in July for murdering 32-year-old Ms Morris - originally of Upchurch in Kent - in a staged car crash.
Mr Morris, from Gillingham, had taken on the 150-mile (241km) walk to draw attention to his cause, calling for better treatment for the victims of crime and their families.
His walk to Edinburgh - which took two and a half weeks - was cut short after he hurt his foot and required several days of hospital treatment in Dundee.
He picked up the challenge again on the edge of Edinburgh to finish at the parliament in Holyrood.
After returning home to Kent, the wound on his foot became infected and Mr Morris, who has diabetes, was told he needed surgery to save his life.
He had an operation earlier this week to remove two of his toes on his right foot. He underwent further surgery on Wednesday night to amputate his leg below the knee.
Life-threatening
Mr Morris told BBC Scotland: "I'd do it again… if I can make some changes, or help to make some changes through the victims rights bill which is going through Holyrood at the moment - then this will have been worthwhile.
"It means that, forever and a day, people will benefit from this, and that's more important than my right leg.
"I woke up this morning and I'm so happy to be alive. If they hadn't have amputated my leg it would have killed me."
The SNP government previously pledged new legislation on victim rights.
The petitions committee agreed to raise the issue with Scottish ministers.
Webster is set to appeal against his conviction.
The fatal crash was originally treated as an accident. Webster said he had swerved to avoid a motorcyclist.
However, the crash was reinvestigated after concerns were raised in the wake of a second crash in New Zealand in 1999.
New tests showed Ms Morris had traces of drugs in her system.
Webster was also convicted of trying to murder his second wife, Felicity Drumm, in Auckland.
He was also found guilty of intending to bigamously marry another woman, Simone Banarjee, from Oban, Argyll, to gain access to her estate, while pretending he had leukaemia.
The crimes were committed as part of a plot to claim almost £1m in life assurance money.