BID works get under way to improve centre of Aberdeen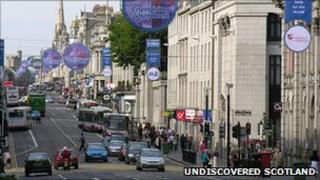 The first phase of work to improve Aberdeen city centre has begun.
More than two thirds of firms in the area voted in favour of a Business Improvement District (BID) earlier this year.
The companies agreed to pay into a fund with the aim of raising more than £3m for work to help attract more visitors.
The first phase of work includes cleaning guttering and building facades to help improve the city centre in the run-up to Christmas.
Chairman of the BID, John Michie, said: "I think there has been a lot of criticism about Union Street in particular.
"When you look around and look up you will see that lots of gutters have grass and weeds growing out of them and we were challenged, as one of the very first things, would we address that."
He added: "But there are very much more major projects lying behind that, which will take more time to deliver of course."
Enhancing environment
The initiative is expected to raise about £3.5m for projects over the BID's initial five-year lifespan, after which businesses will be balloted again to discover if a majority want it to carry on.
It is hoped it will deliver projects which benefit trade by boosting the promotion of the city centre, improving its services and enhancing its fabric and environment.
Eligible businesses within the BID footprint will pay a levy of 1% of their non-domestic rateable value annually.
The money will be collected by Aberdeen City Council and passed to the Aberdeen BID Development Co Ltd.