Award for RAF dentist who pulled woman from Moray canal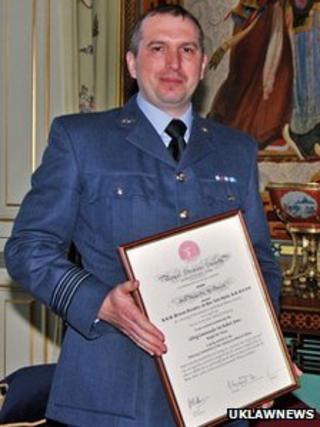 An RAF Kinloss serviceman who plunged into a freezing canal to rescue a woman despite having a shoulder injury has been honoured for his bravery.
Wing Cdr Ian Jones suffered hypothermia after pulling Christina Rhodes from the Spynie Canal near Lossiemouth, in Moray, in January.
He has received the Royal Humane Society's Testimonial on Vellum award.
It was presented to him by Princess Alexandra in a special ceremony at Buckingham Palace.
Wing Cdr Jones, a senior dental officer at the Kinloss air base, was out driving with his family when he spotted the overturned car in the canal.
He used a climbing rope he had in his car to ensure he would be able to get back out of the water and went in to the aid of driver Ms Rhodes.
Speaking after receiving his award, the father-of-four said: "I'd had an operation on my shoulder, my arm had been immobilised and I had just taken the sling off the day before.
"I was showing the children where I used to fish and as we went past the canal I saw a car upside down.
"I tried to be funny and said 'That's not how you park a car'. That's when I noticed the wheels were still spinning."
Wing Cdr Jones pulled Ms Rhodes through the car window as none of the doors would open, and then, along with two other people, helped haul her to safety.
He added: "Going into the water was the coldest thing I've ever done.
"But the bit I am proudest of is that I remembered how to tie a one handed bowline.
"I was taught that in the Scouts!"