NorthLink ferry diverted from Aberdeen due to weather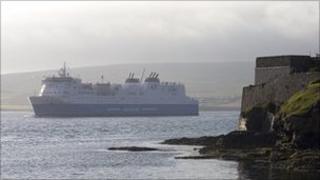 A NorthLink ferry from Shetland to Aberdeen has been diverted to Rosyth due to bad weather.
Hrossey left Lerwick with almost 100 passengers on Monday night and was due in Aberdeen on Tuesday afternoon.
However, the closure of Aberdeen Harbour forced the passenger ferry to switch destination to Fife.
NorthLink apologised for the inconvenience, and said passengers would be offered alternative onward transport on arrival.
The operator said it was the fifth time since 2002 that one of its Aberdeen-bound vessels had been forced to divert to Rosyth.