Inveramsay Bridge options go on display in Inverurie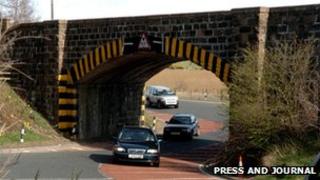 Potential ways of relieving one of the north east of Scotland's most notorious traffic bottlenecks have been put on display to the public.
Transport Scotland has come up with four different designs for improving the A96 Inveramsay rail bridge.
The road narrows down to a single lane when it passes under the bridge near Inverurie.
The designs will be on show at Inverurie Golf Club on Thursday and Friday.
The spot has long been recognised as being in need of a major upgrade, and it is hoped a preferred route will be chosen early next year.
Transport Minister Keith Brown said: "The Scottish government is committed to improving traffic flow on the A96 at the Inveramsay Bridge.
"That is why Finance Secretary John Swinney announced the go-ahead to progress the scheme as part of the Spending Review in September.
"As part of the design process, the four potential route options being developed for the scheme will be on display. The exhibitions will also provide an opportunity for the public to comment on the proposals."