Hearing on Aberdeen waste recycling centre agreed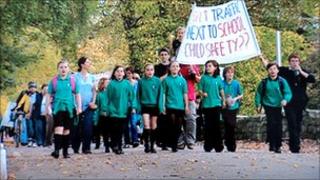 A public hearing is to be held on controversial plans for a waste recycling centre next to one of Aberdeen's most popular parks.
Waste firm SITA has applied for planning permission for the recycling centre on the former Grove Nursery site next to Hazlehead Park.
Critics have said it could create traffic, noise and smells, and affect the Piper Alpha memorial.
Planners recommended deferral for the hearing, and councillors agreed.
About 150 people took part in a protest march over the plans in September.
Hazlehead Park is home to a memorial garden and statue for the Piper Alpha North Sea platform disaster, which led to the deaths of 167 men on 6 July, 1988. There were 61 survivors.