Orkney husband who turned shotgun on wife jailed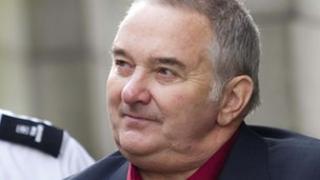 A man who turned a loaded shotgun on his wife and the man he suspected she was having an affair with in Orkney has been jailed.
Colin Baulch, 66, admitted brandishing the weapon at estranged wife Wendy and John Gibson after finding them together.
The pair managed to wrestle the gun from Baulch then tied him up.
At the High Court in Edinburgh, Lord Matthews jailed Baulch for two years and seven months.
The incident happened in Rousay on 19 October last year.
Advocate depute Ashley Edwards previously said Baulch was "ranting and raving" and shaking the shotgun in a "threatening manner" - less than 4ft away from his "love rival".
She told the court that Baulch then turned the gun on his wife when she tried to intervene.
Mr Gibson "lunged" at Baulch, wrestling the gun from him before throwing it into a bush.
'Emotional response'
Baulch was restrained and his hands tied up with rope until police arrived and handcuffed him.
Baulch admitted having a firearm and causing Mr Gibson to believe that the weapon would be used in violence against him.
He admitted the same charge in relation to his wife.
Lord Matthews said: "I am satisfied that matters escalated after your arrival and that your actions thereafter were in the heat of the moment and in the context of your emotional response to a stressful situation.
"Nonetheless the offences are serious ones, involving a firearm, albeit one which you were entitled to possess, and they have had an effect on the complainers. All that has to be marked."