Tertowie mansion house blaze investigated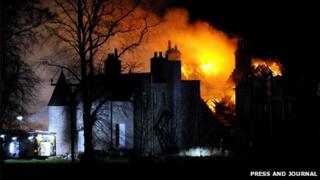 An investigation is under way into a ferocious blaze at a derelict mansion house in Aberdeenshire.
At the height of the blaze, more than 40 firefighters were tackling the fire at Tertowie House in Kinellar, which began at 17:25 on Sunday.
The baronial-style house, which dates from the 16th century but was remodelled in 1867, has been empty for about a decade.
The cause of the fire is currently unknown. No-one was injured.
The property was bought by Aberdeen City Council in 1944 and was also used by Aberdeen College as an educational and training facility.
One feature of the house is an emergency bunker situated below the gym.
It was accessed from a steel blast door.
A 40ft concrete corridor leads to a decontamination area and a second blast door.
It housed the Grampian Regional Council emergency centre in the 1960s.
It was reactivated as a nuclear bunker in the 1980s.
Do you have pictures - still or moving - of this incident? Send them to the BBC Scotland news website at newsonlinescotland@bbc.co.uk
Please ensure when filming or photographing an incident that you make your safety and the safety of others a priority.
If you submit an image, you do so in accordance with the BBC's Terms and Conditions.