Students occupy University of Aberdeen buildings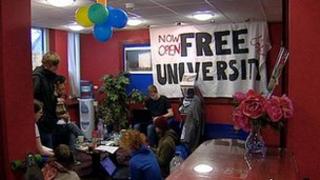 About 50 students have occupied buildings at the University of Aberdeen to protest at cuts in education.
The students entered the offices on Regent Walk on Monday following a protest on campus earlier.
The protesters have demanded that the university's management protect the jobs of lecturers and staff, turn down any bonuses and speak out against the government's economic policies.
They said they would continue their occupation for "as long as it takes".
The protest was staged by the Aberdeen Defend Education Campaign.
In a statement, the university said about 30 students spent the night in the Regent Walk building.
A spokesperson said the university would be responding to the concerns raised by the students.