Strikes cause north east and Northern Isles problems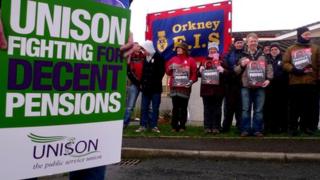 A national day of strikes has caused major disruption across the north east of Scotland and the Northern Isles.
Thousands in the area were among more than two million union members across the UK taking action over pension changes.
All Aberdeen and Aberdeenshire schools were closed, and most in Moray, Orkney and Shetland.
However urgent hospital services were expected to be unaffected.
Thousands of people joined a mass rally in Aberdeen from 12:30 in protest at the government's decision to increase workers' pension contribution payments.
Pockets of morning picket lines had been in evidence in many areas.
These included council buildings, schools and hospitals.
At Aberdeenshire Council's headquarters, Unison's Inez Teece told the BBC Scotland news website: "We still have hope.
"I am really proud of my colleagues standing up for the pensions, they are not gold-plated."
Unions and the government have been in talks over pension contribution rises since the beginning of the year.
Ministers say the change - scheduled for next April - is needed to make schemes sustainable in the face of an ageing population.
The unions have said they regret having to resort to industrial action.
Prime Minister David Cameron said the strikes were irresponsible, and the deal was fair.
He said the government would not be swayed by strike action.