Offshore ship gets 'seal of approval' from rescued pup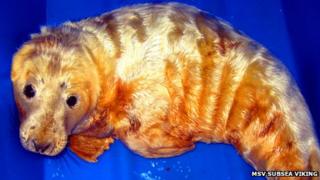 A tired seal pup which refused to leave an oil industry ship 100 miles out to sea is recovering before being released back into the wild.
British Divers Marine Life Rescue (BDMLR) was alerted that the grey seal pup had climbed on board MSV Subsea Viking west of Shetland.
The crew placed the pup back in the water - but it returned, and fell asleep on board.
Initially named Sammy, Viking was taken to BDMLR's Highland Seal Hospital.
It is thought the pup would have been exhausted as they cannot swim very well while they still have their white coat.
Ali Jack, of BDMLR, said: "The poor wee thing was exhausted and if the ship's crew had not rescued this pup when they did then it would have succumbed to its exhaustion and most likely have drowned.
"We would like to pay special tribute to the crew for going to the lengths that they did to save this little pup's life."