Shetland to star in VisitScotland commercials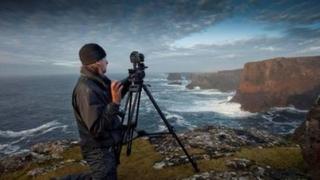 Shetland is to star in a new national VisitScotland television advert.
A film crew from the national tourism organisation visited to shoot scenes for its new Surprise Yourself commercial.
Voiced by television historian Neil Oliver, the new advert will be broadcast on television and in cinemas throughout the UK from January.
Steve Mathieson, VisitScotland islands manager, said: "It's great that the Northern Isles are included."
He added: "Shetland in particular is the area of Britain from which you are most likely to see the spectacular natural phenomena of the Northern Lights.
"Though its appearance can never be guaranteed, for those fortunate enough to witness one of the incredible displays above the wild Shetland landscape it is an experience never to be forgotten."