Rhuaraidh Docherty guilty of Joshua Wilkie's death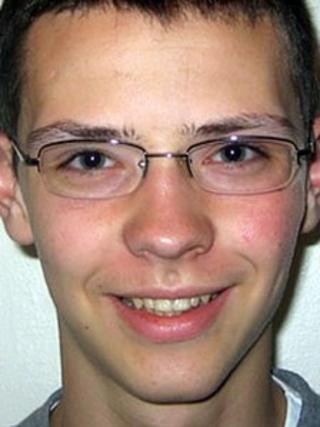 A 20-year-old man has been found guilty of causing the death of his schoolfriend in a car crash.
Rhuaraidh Docherty was convicted at the High Court in Aberdeen of causing the two-car crash that killed Joshua Wilkie, 16, on 5 January 2009.
Docherty, who was 17 at the time of the crash, had passed his driving test just three months before.
He was granted bail by Lord Bannatyne but was banned from driving until he is sentenced in January.
Following the conviction, Joshua's father Brian said Docherty would live with his son's death on his conscience for the rest of his life.
The court had heard how Docherty failed to notice or react to a stationary Ford Fiesta in the road in front of his green Peugeot 206 on the A96 near Huntly, Aberdeenshire.
He swerved on to the opposite side of the A96 Aberdeen to Inverness road to avoid smashing into the back of the car in front but collided with a black Volvo being driven by Sandra Hendry.
Docherty's car went into a spin, ploughed into a field and flipped onto its roof.
Family loss
Joshua was pronounced dead at the scene. He was still strapped into the back seat of the car.
Joshua's dad Brian Wilkie yesterday said the effects of losing his son "defied comprehension".
He said: "My family will be without him for the rest of our lives. We must come to terms with living with our loss.
"The driver of the car had the responsibility of protecting my son as a passenger in his car. He failed in that responsibility.
"As a consequence of his actions, my son died.
"Whatever the sentence he will receive, he will have to live with that on his conscience for the rest of his life."
Docherty, an engineering student at the University of Aberdeen, was found not guilty of driving dangerously during another incident just hours before the fatal smash.
'Russian roulette'
On Tuesday, Docherty wept as he told the jury he had no idea how his car ended up on its roof following the crash that killed his friend.
He said he managed to unfasten his seat belt and escape from the wreckage but was left "devastated" when paramedics told him his friend had not survived.
He claimed he had been driving at between 50-55mph and remembered the sun being "very bright" when he spotted the stationary Fiesta, which the court heard had been indicating to turn right.
He said he had no time to react and took the "split second" decision to swerve to his right.
Advocate depute Laura Thomson told Docherty his decision to swerve onto the wrong side of the road had been like playing "russian roulette", as he could not see if a car was coming in the opposite direction.
Docherty, from Insch, Aberdeenshire, had denied both offences.