Brain injury victim Michelle Coulson wins helper award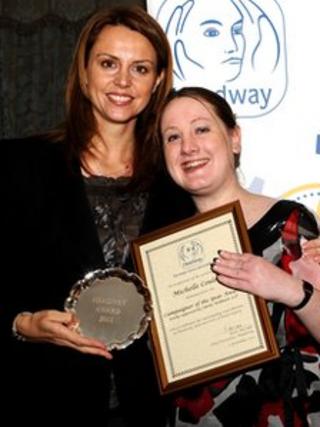 An Aberdeen woman who suffered a severe brain injury in a car crash seven years ago has won a national award for helping others.
Michelle Coulson, 31, was one of three people competing for the title of Campaigner of the Year in the awards, run by the head injury charity Headway.
She was on her way to work in 2004 when she was badly injured.
The former school teacher - who now helps others with brain injuries - said she did not think she was special.
She said: "I just like helping. I enjoy speaking about my brain injury as it makes me feel useful and that something good can come from the accident."
She was named the winner at a ceremony at The Dorchester Hotel in London, and was presented with her award by Beverley Turner - wife of double Olympic gold medallist James Cracknell, who sustained a brain injury in 2010 - and Peter McCabe, chief executive of Headway.
Mr McCabe said: "As soon as you meet Michelle, you cannot fail to be impressed by her positive attitude and determination to help others.
"She has shown tremendous courage and strength to rebuild her life following the accident, and that recovery in itself is inspirational.
"Even more impressive, however, is her drive to help other people. By bravely sharing her deeply personal experiences of brain injury with medical professionals in order to improve the care and support others receive, she has done a huge amount to raise awareness of the often hidden effects of brain injury.
"Michelle is a very special person and hugely deserving of this accolade."