New light shed on Old Aberdeen in photography show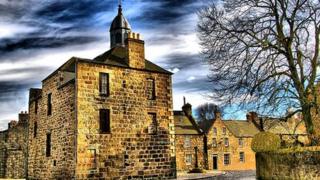 The famous Old Aberdeen area is being shown from a new perspective in a photography exhibition.
The images, taken by the University of Aberdeen's Gordon Robertson, have been altered with software to show familiar landmarks in a new light.
The keen amateur photographer said: "My objective is that visitors will enjoy the images and be inspired to discover the hidden gems of Old Aberdeen."
The exhibition will run until the end of February at the Old Town House.
Some images have been airbrushed to remove references to modern living such as traffic lights and double yellow lines, to create more of a feel of a bygone era.
'Perfect backdrop'
Mr Robertson added: "Old Aberdeen is every photographer's dream.
"The High Street would be a perfect backdrop for any costume drama and the architecture of the Old Town House is straight out of a Charles Dickens novel.
"Anyone living or working in Old Aberdeen is privileged to be surrounded by such great photographic opportunities."
He added: "I have used modern techniques to enhance the images and I hope people enjoy looking at the results."