Press and Journal newspaper to no longer be broadsheet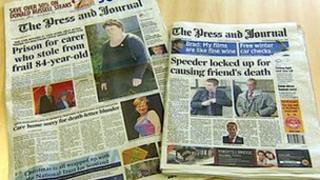 The Aberdeen-based Press and Journal newspaper is to stop publishing in a broadsheet format.
The Press and Journal - which dates back to 1747 - has had a Saturday tabloid edition for several years, and recently introduced the smaller version on Mondays.
Editor Damian Bates said the format had been "well received" by its readers and would now be used each day of the week.
The last broadsheet will be printed sometime in the New Year.
Mr Bates said: "The Press and Journal is a brilliant newspaper with a wonderful heritage and we're very excited about the future."
The Press and Journal is a regional daily for the north and north east of Scotland.