Highlanders receive new colours at RAF Kinloss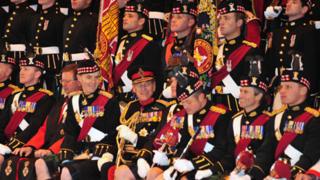 Soldiers from The Highlanders have received new colours from the Duke of Edinburgh at RAF Kinloss.
It was the first time Kinloss had been used for an Army function since it was announced it would cease to be an RAF base and become Army barracks.
On Friday The Highlanders, 4th Battalion The Royal Regiment of Scotland (4 Scots), paraded through Inverness.
The battalion recently returned from active duty in Afghanistan.
As part of the defence spending cuts Kinloss lost its RAF role in July, despite a fierce campaign to keep it open.
Instead it is to become an Army barracks for nearly 1,000 soldiers from an engineers support regiment, who will relocate with their families to Moray by summer next year.
The Ministry of Defence said Kinloss was chosen as a venue to receive the colours from Prince Philip because it was in the battalion's recruiting area and its hangars allowed the ceremony to happen indoors in the event of bad weather.
The Highlanders are currently stationed in Germany, but the MoD said it was unlikely they would move to Kinloss when they return to the UK.