Shetland skywatchers consoled by partial lunar eclipse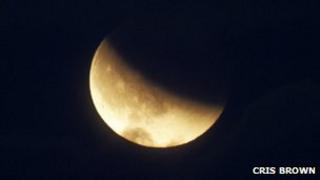 Cloudy skies disappointed skywatchers in Shetland who had hoped to observe a total lunar eclipse.
But the skies later cleared, rewarding observers with a view of a less rare partial eclipse.
A total eclipse means the moon is lit indirectly because of the earth's shadow, giving it a dramatic red appearance.
Spectacular views of the phenomenon occurred across Asia and Australasia.